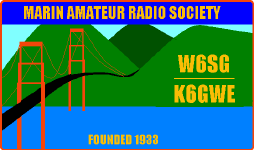 Meetings
Membership Meetings: First Friday of the month: 7:30pm at the Alto Clubhouse
see also CLUB Nets for on-the-air "meetings"
---
Business Meetings: 7:30pm at the Alto Clubhouse
Board of Directors Meetings are usually held on the second Thursday of most months at 7:30 pm local time at the Alto Clubhouse. Meetings may last 30 minutes or longer depending on the agenda. Members are welcome to attend.

---
Weekly Informal Meetings:"Bible Class" Sunday mornings at the Alto Clubhouse
This Sunday-morning get together has been smilingly dubbed "Bible Class" because of it's weekly time slot. These meetings are a great way to introduce yourself, meet local hams and find out more about Amateur Radio. All are welcome ! The group meets every Sunday morning at the Alto Clubhouse, between 8:00 AM and 11:00 AM ... more or less !!

---
Directions to the Alto Clubhouse
The clubhouse is reached by taking the E. Blithedale exit to Mill Valley from Highway 101. Drive west toward Mill Valley only one block to the intersection of Tower Road. Turn right on Tower, then continue on Tower through a jog to Shell. Turn left on Shell and look for an old firehouse at 27 Shell Road.